In 2002 we started making jam from an old Blenheim apricot tree in our Santa Clara, California backyard. What started as a hobby turned into a business when Food & Wine magazine wrote in their February 2007 issue it was the best jam they ever tasted. Due to demand, we have sourced our Blenheim apricots from an organic, third generation, family-run orchard by the name of Van Dyke Ranch.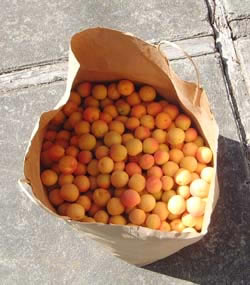 apricots freshly picked from our tree
The Blenheim apricot was one of the first items listed on the Slow Food USA Ark of Taste. This is a list of endangered food processes and agricultural items. Until the 1970s, what is now Silicon Valley was the largest producer of apricots in America. Acres and acres were farms growing this delicious fruit, that due to its fragile nature, was either canned or sun dried. Well, we all know what happened. Virtually all the farms are gone - replaced with high tech corporate offices and suburbs. An important agricultural area was almost completely wiped out in the name of progress. However, this region is famous for its soil and climate, and the few farms left are extremely special because the fruit and vegetables they produce are the very best. While many people know the San Francisco Bay area is famous for food and wine, what few realize is this is because of our special microclimates and soil that are completely unique.
The Blenheim apricot is the finest tasting apricot in the world, and combined with our special canning process and recipe yields a unique jam that has developed a cult following. People who normally hate apricot jam have become addicted. People who are on diets have been reported to eat an entire jar in one day.
Over the years we have developed a wide range of delicious products that are in high demand by people who expect the best. These range from many flavors of jam and marmalade, to caramel sauces, ketchup and bbq sauce. If you appreciate well-made food, with outstanding flavor, why not give our incredible products a try?