We love tea and have all kinds at home but one special tea that few people know about is matcha. This type of tea is very traditional in Japan and is closely linked to the tea ceremony. The tea is super high quality and made from young buds from the top of the plant that are dried and ground to a fine powder. Unlike the tea most people drink, this is made so that you actually consume the tea leaves in powder form, so you get the utmost in nutrients.
While there are all kinds of customs on the preparation in the tea ceremony, we just make it to drink. So here is a rundown that is stripped of all the cultural and ceremonial elements.
Eric learned all about how to prepare this from - how shall we say this delicately - his personal assistant or female butler - at an ultra exclusive, very traditional ryokan in Kanazawa he stayed at. No matter what time of day he appeared in his traditional sukiya house, she magically appeared to prepare matcha and serve wagashi. If you are ever in Japan, you must stay here since all guests have their own private homes and they are famous for their meals, which come at a discount if you are a guest. What is this magical place? Kincha Ryou. In fact the meals he had here rank among the best ever. Similar to kaiseki, but regionally different, and seated in hundreds of years tradtion, this is a place sought out primarily by Japanese politicians who can afford the best money can buy. Few westerns have stayed here, but Eric was told the only other American who had stayed in his cottage was Henry Kissinger.
First find high quality matcha at a Japanese market. If there is no English on the container that is a good sign. The color of the powder must be bright green. Inferior quality is darker and the powder is more grainy. Add about a teaspoon of the powder into a small bowl.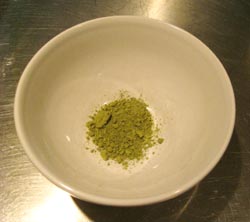 Then you add around 1/4 to 1/3 cup of hot, but not boiling water to the powder. Using a bamboo tea whisk called a chasen...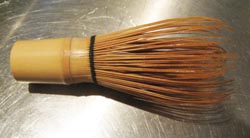 you whisk the tea using zig zag motions side to side until the powder is blended into the water and the top is foamy. In the picture below the foam subsided a bit...it normally is all foam on top.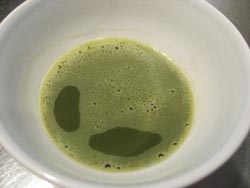 Then you place the bowl on your left palm and using your right hand, turn the bowl three times clockwise, this is the only custom we follow since it is basic good manners, and drink. Good matcha has a perfumy, sweet but earthy taste this is totally unique.
Matcha is normally served with small sweets made from pounded rice called wagashi. If you live in a large city you might find some places that make these traditional sweets that are very yummy and healthy. This is a dying art form since younger Japanese Americans don't want to take over the family business. Two places in SF that used to make it fresh closed when the people retired.