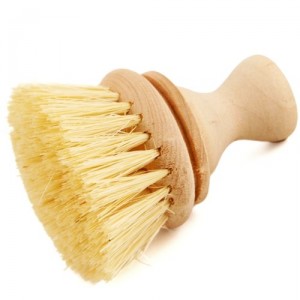 Who knows how long these wood scrubbing brushes will still be made. Lola is the company and it started back in 1968 selling wood-handled, natural bristle cleaning brushes made in Germany. The company has expanded to plastic products which we don't like. Most plastic cleaning products are not stamped with what material they are made out of so it is impossible to know if they can be recycled. However, it seems a lot might be made out of the 5 Plastics
PP (polypropylene), but why they are not stamped is a mystery.
Anyhow, we like to use these for cleaning up pots and dishes since you can just toss them when they are worn out in the compost. They are just wood and tampico bristle which is made from a plant grown in Mexico.