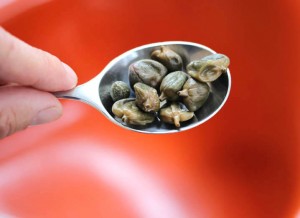 Capers are a daily staple in our kitchen which we use for salad dressings, in sauces, a companion to fish and are terrific chopped up and sprinkled on fried eggs with wilted arugula and a little vinaigrette. What I love about capers is you can use them in lieu of salt because the flavor of a good caper is simply one of a kind, and far superior to plain salt. What is a caper exactly? It is an unopened flower bud that has been salted and preserved so it does not need refrigeration.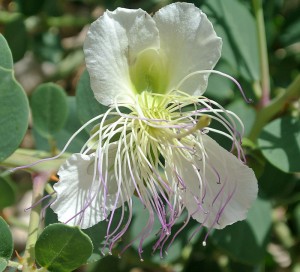 The caper shrub has the most beautiful flowers. I saw one for the first time at a local farmer friend's garden in Gilroy, Calif. Apparently his mother smuggled a cutting back from Eastern Europe many years ago. The plant was about 6 feet wide and 4 feet tall, and was blooming the July day I visited. After seeing this amazing plant I desperately wanted one, but we have no room. You can buy shrubs online at Amazon.
Flash forward many years when a dear friend asked me a huge favor. Her 13-year-old son wanted to go to a science camp in Monterey, Calif. and since they lived in Washington, DC she asked if I could pick him up from the airport, let him sleep overnight, drive him two hours to the camp and then a week later pick him up and make sure he caught his flight out of SFO. Secretly I was a little worried because this was in July when we are in the midst of making apricot jam, but I simply replied, "well he might have to help make apricot jam!"
She was very apprehensive since this was the very first time he had ever traveled alone. He turned out to be a charming kid who fell in love with San Francisco and the short time we spent together was a blast. Luckily he wasn't forced to make any apricot jam either. When he arrived home, she asked me what she could do to repay me for doing such a huge favor. "Just send me a huge bag of capers from Salina," I replied.
Her family has a house in Salina, a tiny island near Sicily, and I had heard stories of how wonderful the capers were. Apparently until you have a Salina caper you haven't really had a caper.
"You will have to wait until they come down from the mountain after harvest," she told me.
"How long will that be?" I asked hoping it would be in a few weeks.
"Probably in November!"
Well the wait was agony, but one day, without any warning, a small box arrived in the mail. When I opened it up, there was a clear, unmarked plastic bag stuffed with about 2 lbs of capers. There were absolutely no salt crystals at all. "Were they even cured?" I thought to myself. Then the second thought that struck me was how humongous they were! Some were the size of a big blueberry!
Like most agricultural products, there are different grades based on size. The capers we get here in the U.S. are the smallest capers. They come in jars of brine which is a terrible crime because the brine robs them of their flavor. If you have a jar of brined capers immediately throw it away! The ones packed in salt crystals are much better, but again, they are tiny and very salty.
This is what surprised me about the Salina capers. Not only are they the highest grade with the most mind boggling flavor but they are not that salty. The old fashioned curing process in Salina from the small producers is different than the commercial process that packs them in salt. I don't know if this is some government requirement for added preservation, but all I can say is the capers we have left which we keep in a jar in the refrigerator are perfectly fine. The salt crystals seems overkill.
Since they are not as salty you do not need to rinse them and the delicate flavor isn't masked by over salting.
Go straight to the source and contact the producers themselves at this Italian Slow Food page.
Here is the closest I can find to what we have that you can buy online.
Still want to know more? Check out this video on Salina and the caper harvest process.