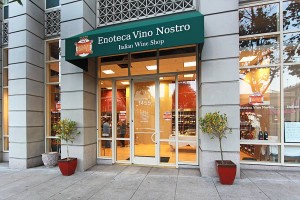 Recently we stopped into a new Italian wine shop here in San Francisco called Enoteca Vino Nostro and had a delightful visit with the owner Amanzio Tamanti who also owns a wine importing company and has been in the busienss 37 years. This means he buys directly from vineyards and imports the wine to his warehouse where he sells most of the wine to local restaurants. He is a great guy to chat with! He also did a trade for our jam for wine. What a guy!
There are so many varieties of grapes there are out there and since we are in the business of fruit, wine is dear to our hearts and learning about new varieties and methods of production is important. In fact, some of our jam-making is based on some obscure types of wine production.

First was the vineyard Tenuta Roveglia from the Lugana DOC region that was a popular Roman wine growing area and was celebrated by the Roman poet Catullus. The Vigne di Catullo Lugana 2010 is made from Trebbiano di Lugana grapes from 55 year old vines near Lake Garda which is the largest lake in Italy. To quote from a website about production:
"Vintage takes place in the first week of October. Firstly, grapes are roughly selected. Unsuitable grapes are eliminated, then the real harvest is carried out by hand in small plastic boxes before soft pressing with 60% maximum extraction of must. White vinification with fermentation in steel barrels for 10-12 months. Once the fermentation is complete, the wine rests in the barrels on its own sediment until the end of October, when it is cleaned and decanted. It is then bottled according to various traditional stages, from February to December of the subsequent year. It is put on the market after having rested in the bottles for 2-3 months."
All we can say is delicious and powerful.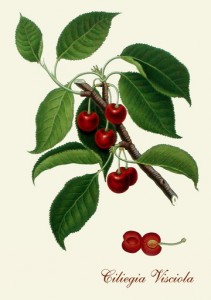 Then Amanzio, upon hearing about the cherry jams we make, directed us to several bottles of viscola wine which is a red wine made with several types of grapes such as the Lacraima di Morro d'Alba or Vernaccia di Pergola and wild visciola cherries produced in the Le Marche region which is the same as the white we mentioned just above. This is a fortified wine, since a small addition of sugar is added. Apparently, in the old days women drank this stuff since the cherries and fortification made harsh wine more drinkable and the men would drink the gappa.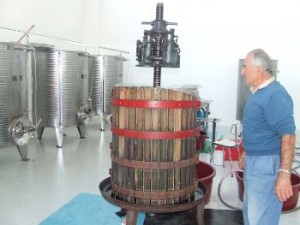 Some producers are:
Terra Cruda
Le Cantine del Cardinale
This is an article about them and this type of wine.
Villa Ligi
Who knows maybe we will do a wine and wild cherry jam someday!