In the world of cookware there are a range of cooking materials and some are faster to respond to heat (and taking them off heat) than others. What material is the Lamborghini of cookware? Today we will find out.
Years ago before we were professionals in the food business a bunch of pots and pans were purchased as a quick way to outfit the new kitchen in the house. All Clad was all the rage in those days and we got a big box full of different sizes at a good discount. Over the years we acquired more. They were easy to clean with the stainless steel lining which matched all the stainless in the kitchen (primary reason for purchase), but were supposed to be quick to heat up and free of hot spots due to the aluminum core. All the fancy cooking stores sold them and still do.
If you haven't read our prior post about French pastry we can easily say we have been in a mini French food cycle. This was all started at the public library when we got some old Julia Child shows on DVD and were inspired again. While she cooked with some pretty cheap pans, she always pulled out a copper one as her preferred choice. Thus the copper pot obsession started along with acquiring some more obscure classic French cooking books.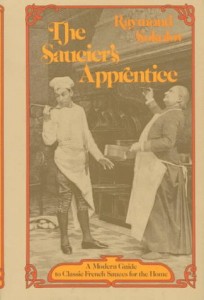 The Saucier's Apprentice: A Modern Guide to Classic French Sauces for the Home by Raymond A. Sokolov is one you should definitely have in your library since it is first off so funny and well written and second it harks back to the golden days of super reduced and complex sauces.
For making demi-glace you are supposed to splinter all the bones that go in the stock first to further extract flavor. When I asked a butcher at a very reputable meat market about splintering bones he said he had never heard of that. Of course he was in his 20s. I should have asked someone older.
We are going to check out other books by Sokolov, especially his book Fading Feast written in the early 1980s about disappearing regional American foods.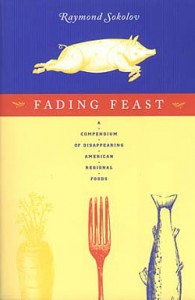 Anyhow, I began to spend my free time looking up used copper pots on ebay. I had heard horrible things about them with the tin lining always coming off and how insanely expensive they were. I also thought the copper finish was very dated and clashed with all the stainless in our kitchen. Yes primarily it was an aesthetic issue. But the more I read about them and thought about them the more I wanted one to play with. Were they really that good?
For those of you not initiated with the virtues of copper, it is supposed to be the best conductor of heat over iron or stainless steel or aluminum. It heats up fast, and when you reduce the heat, it cools faster giving you more control. Now, copper needs to be lined with something if you put anything acidic in it since it will cause a chemical reaction and not only tarnish the surface but can impart a flavor to the food. Tin has traditionally been used because it is an excellent conductor of heat and has non-stick properties. However, the melting point of tin is around 450 degrees and while that is very hot, pans left empty on the burner can cause the tin to bubble and melt. I have been told it is the best cooking material but the least forgiving. Also, getting a pan re-tinned can be expensive. Two good companies for doing this is East Coast Tinning and Atlantic Retinning.
Copper can be lined with stainless steel, but stainless is not a good conductor of heat. It is used for its amazing strength and anti-corrosive properties. If you get copper you must get tin. So I sprung for a small sauce pan made of 2 mm thick copper (you can get 2.5, 3, 4 etc.) by the budget copper pot company in France – Baumalu (no website).
I figured why spend money on an expensive Mauviel or Bourgeat pan and be disappointed. The thicker the copper the better but also it can be so heavy you cannot lift the pan. Which brings me to the other importance of material – weight. Aluminum is used in almost all restaurants because it is light weight and cheap. If you are tossing sauteed onions all day you don't want a pan that weights as much as a small cow. Copper is not as heavy as cast iron but it is certainly more heavy than stainless or aluminum. That is a big drawback if you are working with it all day.
Now getting to the main point of this article. I began to wonder which cooking material really is the most responsive. So I did a simple little test that wasn't entirely scientific since the pans were all not the same size or weight.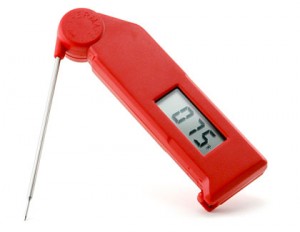 I put a cold pan on a cold gas burner, put a splash proof Thermapen instant read thermometer in the center of the bottom of the pan and waited until it read the ambient temperature along with the surface of the pan which was 62.5 F and recorded the temperature after 20 seconds of high heat. Note, this is a great kitchen tool!
The contenders:
All Clad Master Chef 9 inch skillet (aluminum with stainless steel lining)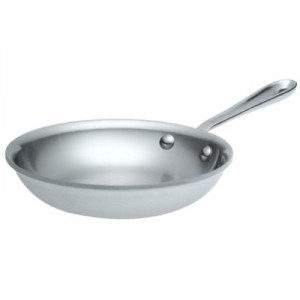 Lodge cast iron 9 inch skillet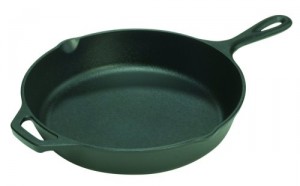 Baumalu 8 inch copper saute pan with tin lining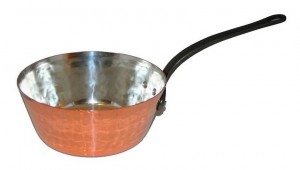 Revereware 8 inch saute pan (stainless steel with copper exterior bottom layer)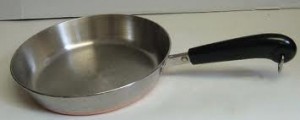 The results surprised me.
Here is the ranking and temperatures after 20 seconds of heat:
1. Revereware – 155 F
2. Baumalu – 145 F
3. All Clad – 112 F
4. Lodge – 106 F
The explanation of the Reverware coming in first is because it is such a thin layer of material. It is about 1/3 the thickness of any of the other pots. So the poor heat conductivity of the stainless steel is compensated by the ultra thin steel. I am not sure how much the copper plating on the bottom helps but it probably evens out the heat source. One big problem with using thin pans is they do not distribute heat evenly and can have hot spots that can burn. Want to boil a lot of water? Get a thin stainless steel pot. I didn't do a pure aluminum pan so that might be faster if it is thin enough. There has been a raging debate about Alzheimer's and aluminum so we stay away from it (all restaurants use them unfortunately).
The copper came in a close second and from experience I know the heat distribution is very even so this would be the best pan to use out of the four when you need rapid temperature control – such as making a Hollandaise sauce. All Clad started off slow to heat up but rapidly raised temperature toward the 15 second mark. The Lodge was slow and steady which is why it is so beloved for slow cooking and simmering. You would never want to make caramel sauce in an iron pot!
So those are the results of my test. I looked online and have yet to see any other similar road test of different cooking materials, so hopefully someone devotes more time and does a better more scientific test – America's Test Kitchen hint hint. In the meantime I think I might be on the market for a new copper pot – tin lined of course and probably used to save money!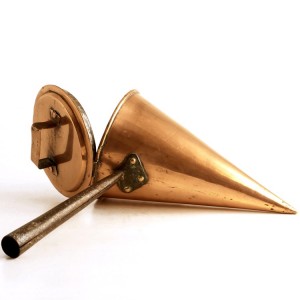 Of course if you have some extra cash, Four and Twenty offers simply the best selection of the finest copper. Look at the beautiful cider warmer above